Grand Turk Diving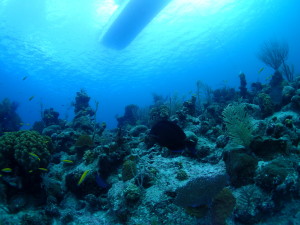 The famous Grand Turk "wall" runs the length of the island on the leeward side. We have over 40 dive sites to choose from in the Columbus National Marine Park.  The top of the wall starts at depths of 25-30 feet and drops off to over 7,000 feet!
Blue Water Divers offers Grand Turk diving and snorkeling trips along the wall, as well as scuba certification and scuba diving lessons.
Short boat rides, typically little to no current (particularly during the summer months), excellent visibility and a variety of marine life are just a few of the additional attractions of Grand Turk diving. Blue Water Divers has enjoyed showing our guests the underwater world on Grand Turk since 1983. Three decades (!) of running a dive shop on Grand Turk have given us the experience to establish fundamental operating principles which we believe enable us to provide a better service to our customers, including:
Small Groups and Personal Service
When you dive with us you will be able to avoid the crowds and enjoy our small groups policy. We only allow for a maximum of 8 divers, per boat. We believe that by keeping our dive groups small, we are able to provide a safer, more enjoyable personal experience.
Have Fun, Do Good
Blue Water Divers takes great pride in our commitment to the environment. We like to Have Fun and Do Good. We serve on the board of the TC Reef Fund (a local non-profit), are a Department of Environment and Maritime Affairs (DEMA) Community Conservation Partner and we are also the ONLY dive center on Grand Turk who has been awarded the PADI Green Star Award.

The PADI Green Star Award honors dive centers who not only behave in an environmentally responsible manner, but also encourages others to do the same. We do not feed/scent/touch/harass marine life on our dives or other trips and we appreciate our guests also showing this respect for the fragile, irreplaceable marine ecosystem.
Education
We believe that education is a key component of Having Fun and Doing Good! We offer a full range of PADI courses for our guests staying on Grand Turk: from Resort Courses for individuals who want to give diving a try, to PADI Open Water certifications for folks who want to get certified to dive, through PADI continuing education courses for already certified divers.
For our cruise ship visitors who are not certified to dive, we offer Resort Courses for cruise ship passengers which fit within the cruise ship schedule.
If you would like to know more about your diving options as a either certified diver or as someone interested in learning more about diving, please let us know whether you will be coming to Grand Turk on a cruise ship or if you will be staying on Grand Turk, as well as your planned accommodation location and date(s) of stay. In the meantime, feel free to check out some of our most popular dive sites using the map below, our Diving Grand Turk interest group on Facebook, and/or our Blue Water Divers page on Facebook.