More Fun More Good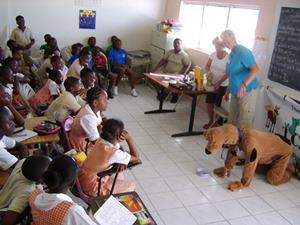 Have you ever wanted to make a difference on vacation? It is easy to practice our motto, "Have Fun, Do Good" while visiting Grand Turk (and many of these suggestions apply to other islands you may visit or even things you can do at home).
We fully understand that most of you are here on holiday, but in the event you want to make a difference on vacation – to the environment, to others and/or to the local community – we have a few ideas that might be of interest to you. Some require a small investment of time, some require a small investment of money and some only require your enthusiasm and willingness to make a difference. Even if none of these ideas appeal to you, we do still hope you will enjoy your visit and have fun!
We are proud members of Pack for a Purpose, an initiative that allows travelers like you to make a lasting impact in the community at your travel destination. If you save just a few kilos of space in your suitcase and bring supplies for area schools or medical clinics in need, you'll make a priceless impact in the lives of our local children and families. Please click here to see what supplies are needed for our current projects.
Conserve water, which is an especially valuable resource here on Grand Turk. Please be thoughtful about how long your showers are and try to not leave faucets running.
Purchase a wrist band and/or BC tag in support of the TC Reef Fund. The TC Reef Fund helps provide mooring supplies to help protect the reef in our marine park from anchor damage. This organization has 501(c)3 status in the U.S., so U.S. taxpayers can also make tax deductible donations to the TC Reef Fund.
Reduce the volume of trash by using re-usable shopping bags and water bottles.
Participate in a beach cleanup or marine debris dives.
Learn more about the aquatic ecosystem and how you can help protect this wondrous and precious environment.
Do not remove anything (unless it is debris) from the Marine Park. This includes things like sea shells.
Take an Environmental Specialty course (e.g. Coral Reef Conservation, Underwater Naturalist, Fish Identification, Sea Turtle Awareness, etc.).
Take a Peak Performance Buoyancy course to improve your buoyancy skills. This allows you to get closer to the reef for a better view, while remaining safely in control of your distance.
Avoid touching marine life. Even if it seems like a fish or marine animal would allow you to, or you believe they would "enjoy" it, please do not touch it.
Understand why we don't feed the fish or sell trips that will stress marine life, for profit or for the entertainment of our guests. We want you to have fun, but not at the expense of a healthy marine environment.  See Don't Feed or Harass for more details.
Join Project AWARE (it's free!).
Help educate others about the importance of environmental and community responsibility.
Donate a book to the local library (books can be brought in duty free).
Buy a bird trail card and enjoy bird watching while helping the Turks and Caicos National Museum continue to both educate others and maintain our unique bird environment.
Be a traveler – not a tourist – learn about the Turks and Caicos Islands' uniqueness.
Check out a map of the Turks and Caicos Islands to learn more about the geography of TCI.
Appreciate local culture.
Enjoy the sounds of the local genre of music: listen to a rip-saw band.
Visit the Turks and Caicos National Museum.
Be a puppy carrier for the Grand Turk TCSPCA or Potcake Place, and deliver a potcake to his/her adoptive parents.
Adopt a potcake.
Pet a potcake.
Support the Grand Turk TCSPCA by making a donation, or by buying a shirt, cap, bag, and/or calendar.
Bring clothing, footwear, or school supplies as a donation for the Turks and Caicos Red Cross.
Leave your footprints in the sand, your air bubbles underwater, and memories for us here of your happy smile.
Tell your friends – but ONLY the ones who you know will appreciate the uniqueness of Grand Turk – about what makes this a special place.
Enjoy yourself.
Come back to visit us again!