PADI Scuba Certification and Courses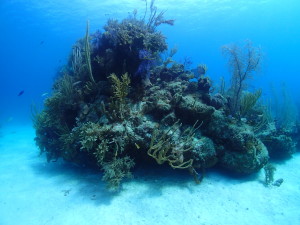 We offer a wide variety of PADI scuba certification courses for you to start your diving adventures or continue your scuba diving education. Grand Turk is the perfect place to learn to dive and also to increase your skills with continuing education. One of the great things about taking a PADI scuba certification course on Grand Turk with us is that you are usually in a semi-private course, which means that the course schedule can be more tailored to you as an individual than if you were getting certified as part of a large class.
Blue Waters Divers is proud to be the only dive center in the Turks and Caicos to be a 100% AWARE Partner. 100% AWARE Partners are ocean stewards who support a clean, healthy ocean by making a donation on behalf of each student to Project AWARE. When you earn a scuba certification with Blue Water Divers on Grand Turk, you'll receive the Project AWARE version of your PADI certification card and be part of a movement of divers protecting our ocean planet!
Let us know your date of arrival and your date of departure from Grand Turk, and we will do our best to accommodate your schedule. We strongly recommend advance reservations for any PADI course. Please take note that the only PADI Instruction we are able to offer our cruise ship visitors is the Discover Scuba Diving course; we are not able to offer scuba certification or referral courses to guests visiting by cruise ship.
It is very important to remember that Scuba Diving is a physical activity and can be strenuous at times. In order to participate in scuba diving, a person must maintain a reasonable level of health and fitness and certain medical issues must be considered. Please review the PADI Medical form and, if necessary, discuss with your physician before diving.