More Grand Turk Fun
While Grand Turk is most well known for its diving along the famous Grand Turk wall, there are other fun things to do while on island. Here are a few Grand Turk things to do in the lovely waters which surround the island: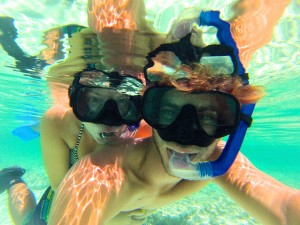 Snorkel Boat Trips
If you are keen to see the wall, but diving isn't your thing, why not try snorkeling? Our snorkel boat trips go to two sites, are two and a half hours in duration, and include snorkel gear. On these snorkel trips, the first site is in shallower water (depths of less than 10 feet) which allows snorkelers to see the reef and marine life up close. The second snorkel site is chosen from one of the over 40 sites along the famous Grand Turk "wall" in the marine park. The wall is actually a coral reef drop-off that begins in depths of 25-30 feet and plunges to depths of over 7,000 feet! If you have never snorkeled before, that is not problem! Your boat captain is also a trained PADI instructor and would be happy to give you some pointers.
Resort Courses
If you aren't certified to dive, but want to give diving a try, a Resort Course gives you the chance to see what diving is like under the supervision of a trained PADI professional. During the Resort Course, you will be taught the basics of dive theory and equipment usage. Then you and your instructor will kneel down in shallow water on a sandy bottom to go over a few skills. Once you and your instructor are comfortable with your basic diving skills, we will bring you out to the wall. That's right, you get a do a real dive! This isn't like other places, where a Resort Courses might happen in a pool and/or in a big group, this is a unique, personal experience!
It is important to remember that at the end of the course you will not be certified to dive, so if you are interested in continued diving you should check out the PADI Open Water Course.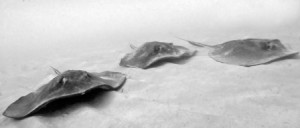 Gibbs Cay
If you are staying on-island, you also have the option of going to the nearby islands of Gibbs Cay (note: Cay is pronounced "key"). You can see more information about these trips on our On Island Guests page.
We do not offer trips to Gibbs Cay when cruise ships are in port as our customers find it too crowded when the cruise ship excursion boats are visiting. Also, we do not support fish feeding or harassing the wildlife (you can refer to our Environmental Responsibility statement for more information). However, we do offer snorkeling trips and sometimes stingrays can be seen along with a variety of other marine life.
Other Things To Do on Grand Turk
Even  if you aren't into the beaches and the water, or simply have had enough water activities for one day, there are other Grand Turk things to do on land and we have listed a few of these below: