How Can We Help?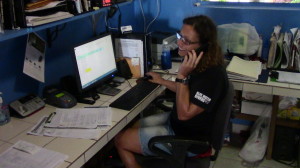 Are you ready to start your Turks and Caicos trip planning? Since there are many islands in the country of Turks and Caicos, first you will want to determine if you are coming to the island of Grand Turk. If you aren't sure yet which island (or islands) in the Turks and Caicos you will be visiting on your holiday and want to learn more about Grand Turk island, you might want to check out our FAQs and browse our website.
Our team lives on Grand Turk island year-round and our owner, Mitch Rolling, has lived on Grand Turk since 1980. Blue Water Divers has been in operation since 1983 and our team delights in sharing the special island of Grand Turk – above and below – with our guests. Grand Turk is a small, laid-back island, best known for its convenient wall diving in the Columbus Landfall National Marine Park. There are no large resorts on Grand Turk and the island still retains much of its West Indian charm. Blue Water Divers is the on-site dive shop at the Osprey Beach Hotel. The Osprey Beach Hotel is located conveniently in "town" and offers both beachfront and non-beachfront accommodations. Blue Water Divers is a PADI scuba diving shop and the only recipient of the PADI Green Star Award on Grand Turk.
Whether you are ready to book your Grand Turk island trip or you just have a few questions, please don't hesitate to contact us. Our team is always ready to help you out in any way they can. You can contact us via email, fax or phone (Grand Turk is on US Eastern Time). All email inquiries will be responded to within 24 hours. We are available every day (even on holidays!) to answer any questions you may have.
Grand Turk Island
The map below shows where Grand Turk and Blue Water Divers are located within the Turks and Caicos Islands.