Boats and Gear
Blue Water Divers currently operates a fleet of two vessels here in the Turks Islands and we are based on the island of Grand Turk.  Both of our boats are flat bottomed Carolina Skiffs, which allows us to pull right up to the beach for easy boarding. Both of our boats are equipped with a shade canopy, dry box, benches, tank racks, a garbage bucket, a fire bucket, an emergency oxygen supply, and emergency flotation devices. Although both of our boats are rated to carry 18-22 passengers, because we believe in the advantage of small groups, our absolute maximum trip size is 10 persons snorkeling (on the smaller boat rated to carry 18) and 14 persons snorkeling (on the larger boat rated to carry 22). And on our all of our dive trips, we enforce even lower maximum passenger numbers.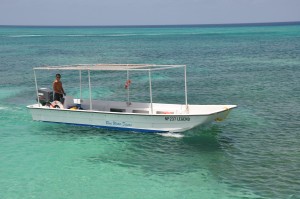 Legend
Legend was born under auspicious signs and her name reflects what sages claim will become her destiny.  She comes equipped with two 115 horsepower, environmentally friendly four-stroke engines. She is 28′ long and rated to carry 22 passengers.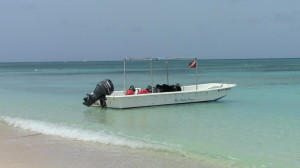 Mini Me
As her name might suggest, Mini Me is the smallest of our two boats. She has one environmentally friendly four-stroke 90 horsepower engine and is 24' in length.  She is rated to carry 18 passengers.
Gear
For our rental line, Blue Water Divers uses Sherwood Silhouette BCs, one of the most purchased BCs in the world. Our rental regulators are also Sherwood. For fins we have both Trident and Dacor available to rent and carry Mares fins for sale, as we find that fin sizing and fit can sometimes vary by brand. We also offer 3mm Xcel wetsuits for rent, in both full length and shortie styles.